Download Advertising Graphics
HERE for Climate includes a significant advertising and education effort. The American Humanist Association is placing advertisements in print media, on billboards and road signs in targeted areas, in digital outlets, and on social media. These ads direct community members and activists to the HERE for Climate website. Are you interested in helping to get the word out? Download the same graphics we're placing and reach out to your local newspaper! If you have questions about this process, contact the AHA's Communications Associate Sam Gerard at sgerard@americanhumanist.org or (202) 238-9088.  
---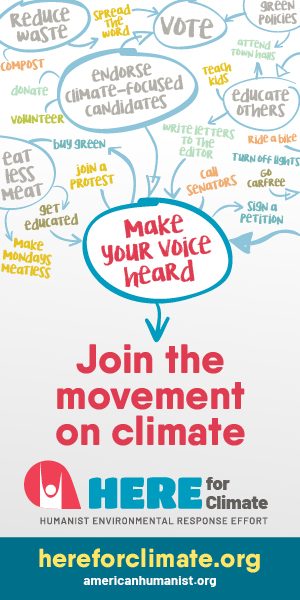 Other Options
Spread the word in your community!
Follow the American Humanist Association on Facebook, Twitter, or Instagram and share our #HEREforClimate posts.
Write a letter to the editor of your local paper—let them know that humanists are paying attention to climate change and are ready to make a difference!
Attend an event in your area, and post about it on social media. Make sure to use the #HEREforClimate—so we can demonstrate that humanists are creating local, immediate change.