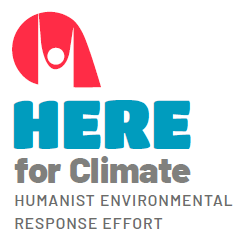 The American Humanist Association recognizes that this is the only world we have and experts agree that, although our time is running out, our planet can be saved. Humans are responsible for creating the climate crisis and it is only through strong and sustained personal and collective human action that the crisis can be stopped. The threat of climate change is a humanist issue and it's time for us—as a community—to confront it head on.
Recent reports from the United Nations join the United States' own Fourth National Climate Assessment in underlining the fact that we must successfully address climate change now or face dire consequences in the immediate future. UN Secretary-General António Guterres says that "climate change is moving faster than our efforts to address it." But finding ways to effectively address climate change in a personal or even communal way can seem overwhelming.
Humanist Environmental Response Effort (HERE) for Climate connects local individuals and community organizations with the resources they need to have an impact, offering a roadmap for us to move from "What can I do?" to "We can do this!" The project is designed to help both individuals and groups encourage local, immediate change that will make a difference–even when our federal government may not. The time for humanists to act is now, before it is too late.