Climate Change is a massive issue for the current and future health of the planet and all that exists on it. Finding and catching up on news surrounding climate change is often a difficult task because of the broad range of aspects that contribute to and occur because of Earth's changing climate. In early 2021, HERE for Climate is hosting a webinar series that will elaborate on some of the aspects: energy, equity, power, health, and justice.
Each session will be held on Zoom Webinar: https://zoom.us/j/97511214623 and recorded to be shared here.
Solutions for Food, Energy, and Water Challenges Faced by Indigenous Communities
January 14th, 2021 7:00 pm EST – 8:30 pm EST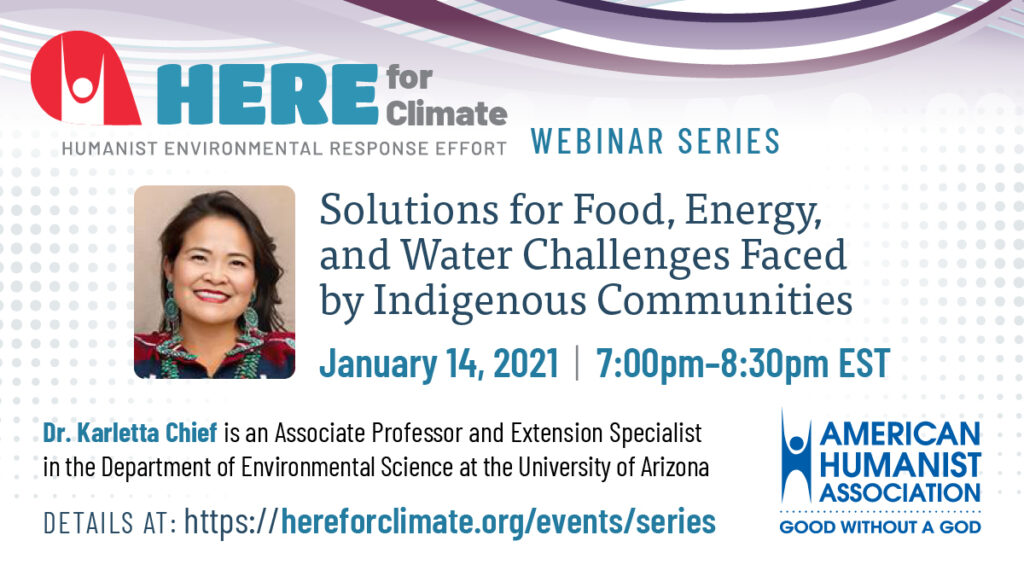 Join us for a presentation from Dr. Karletta Chief, about food, energy, and water challenges faced by Indigenous communities. Dr. Karletta Chief is an Associate Professor and Extension Specialist in the Department of Environmental Science at the University of Arizona in Tucson, AZ. Dr. Chief is a member of a national network of Indigenous and non-Indigenous scientists focusing on climate change impacts to Indigenous peoples. Dr. Chief is Diné and originally from Black Mesa, AZ. She is a member of the Rising Voices, and Climate and Traditional Knowledges Workgroup with a focus on climate impacts to tribal waters. Two of her primary tribal projects are The Pyramid Lake Paiute Tribe Climate Adaptation and Traditional Knowledge and The Navajo Nation Gold King Mine Spill Impacts. Dr. Chief supervises and advises the research of 11 students, 10 of which are Native American working on topics related to tribal environmental issues. .
A More Equitable Future in Environment, Economy, and Energy
January 21st 2021 7:00 pm EST – 8:30 pm EST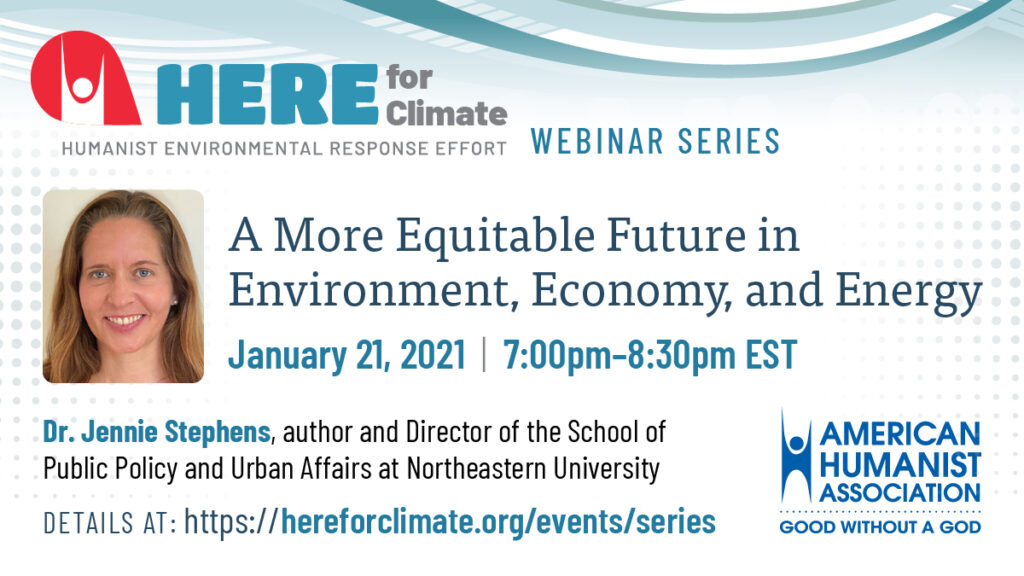 Join us as we learn about and discuss "A More Equitable Future in Environment, Economy, and Energy." Dr. Jennie Stephens will present on justice in climate and energy and how to create necessary, effective solutions. Dr. Jennie Stephens is the Director of School of Public Policy and Urban Affairs at Northeastern University and author of "Diversifying Power: Why We Need Antiracist, Feminist Leadership on Climate and Energy.
Our Health and the Environment's Health
January 28th, 2021 7:00 pm – 8:30 pm EST
Gloria E. Barrera and Eugenia Gibbons will present on the connection between human and environmental health, and how climate change is affecting the health of communities. Gloria E. Barrera, MSN, RN, PEL-CSN currently works as a certified school nurse at a public high school outside of Chicago, and as an adjunct professor of nursing at several universities, most notably at DePaul University and her alma mater Saint Xavier University. Eugenia Gibbons is the Boston Director of Climate Policy at Health Care Without Harm. For more than a decade, Eugenia has worked to build partnerships across interests and sectors to advocate for, develop, and implement state climate solutions that are sustainable, affordable, equitable, and achieve deep greenhouse gas emission reductions.
Where do we go from here? Solutions for the Environment
February 4th, 2021 7:00 pm – 8:30 pm EST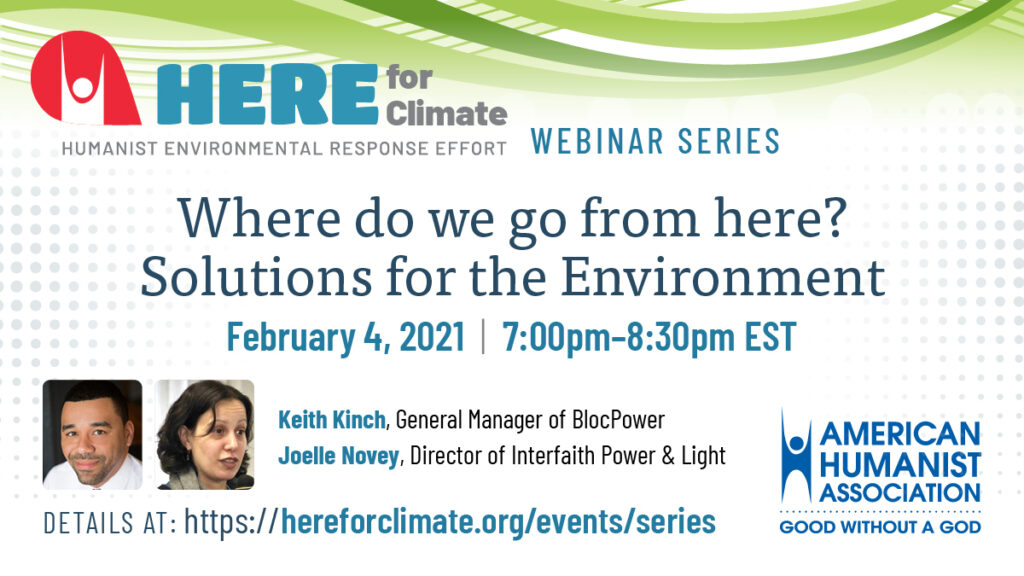 The final event of the series will focus on "Where do we go from here? Solutions for the environment." The speakers include Keith Kinch and Joelle Novey.
Keith Kinch serves as co-founder and General Manager at BlocPower. BlocPower is a Brooklyn-based technology startup that retrofits buildings. Since their 2012 founding, the company has completed almost 1,000 buildings and cut energy related costs for those buildings by 20-40%.
Joelle Novey directs Interfaith Power & Light (DC.MD.NoVA), through which congregations of many traditions across the region — including humanist communities — are coming together to respond to the climate crisis as a moral issue. She speaks widely across the region on the role of religious communities in the climate movement.